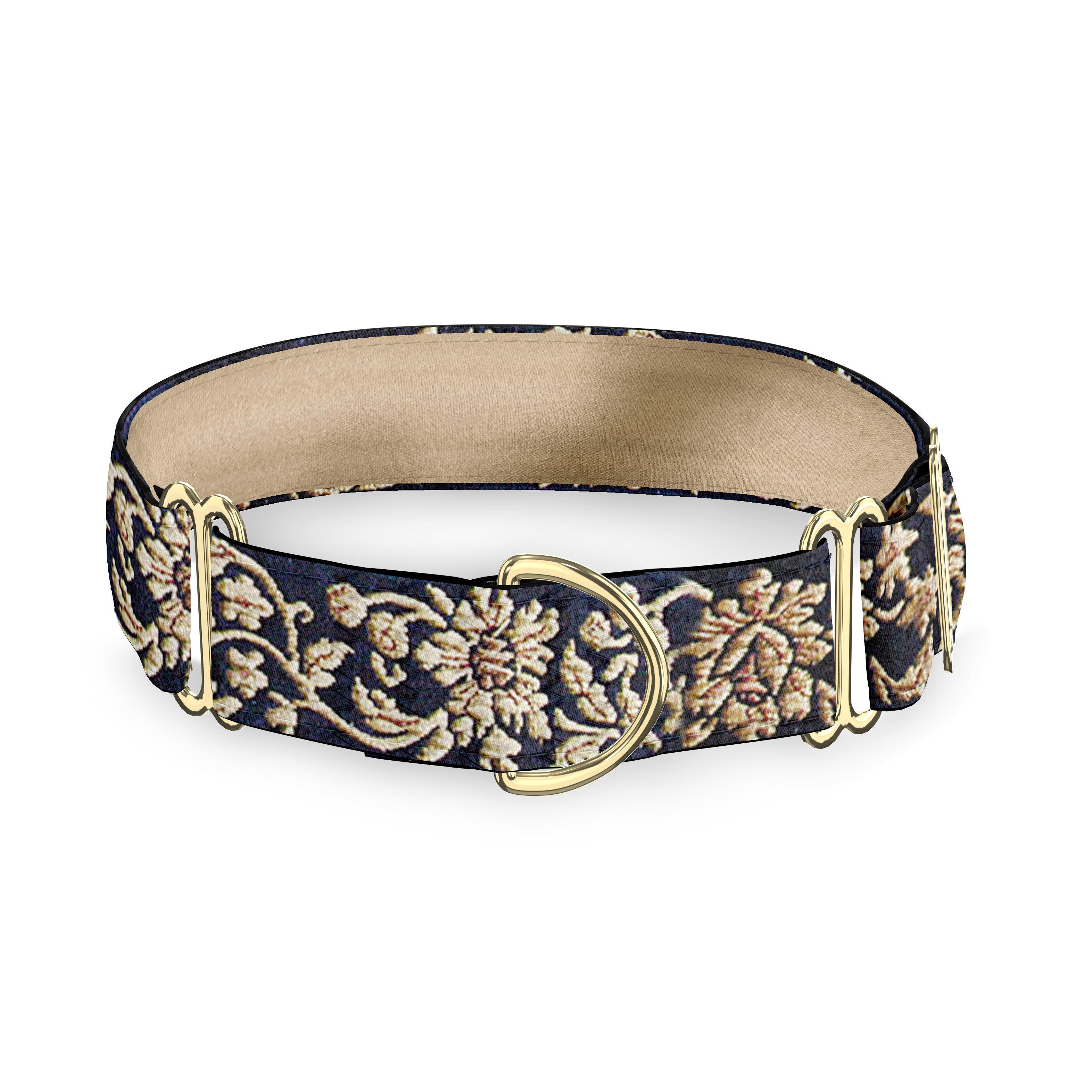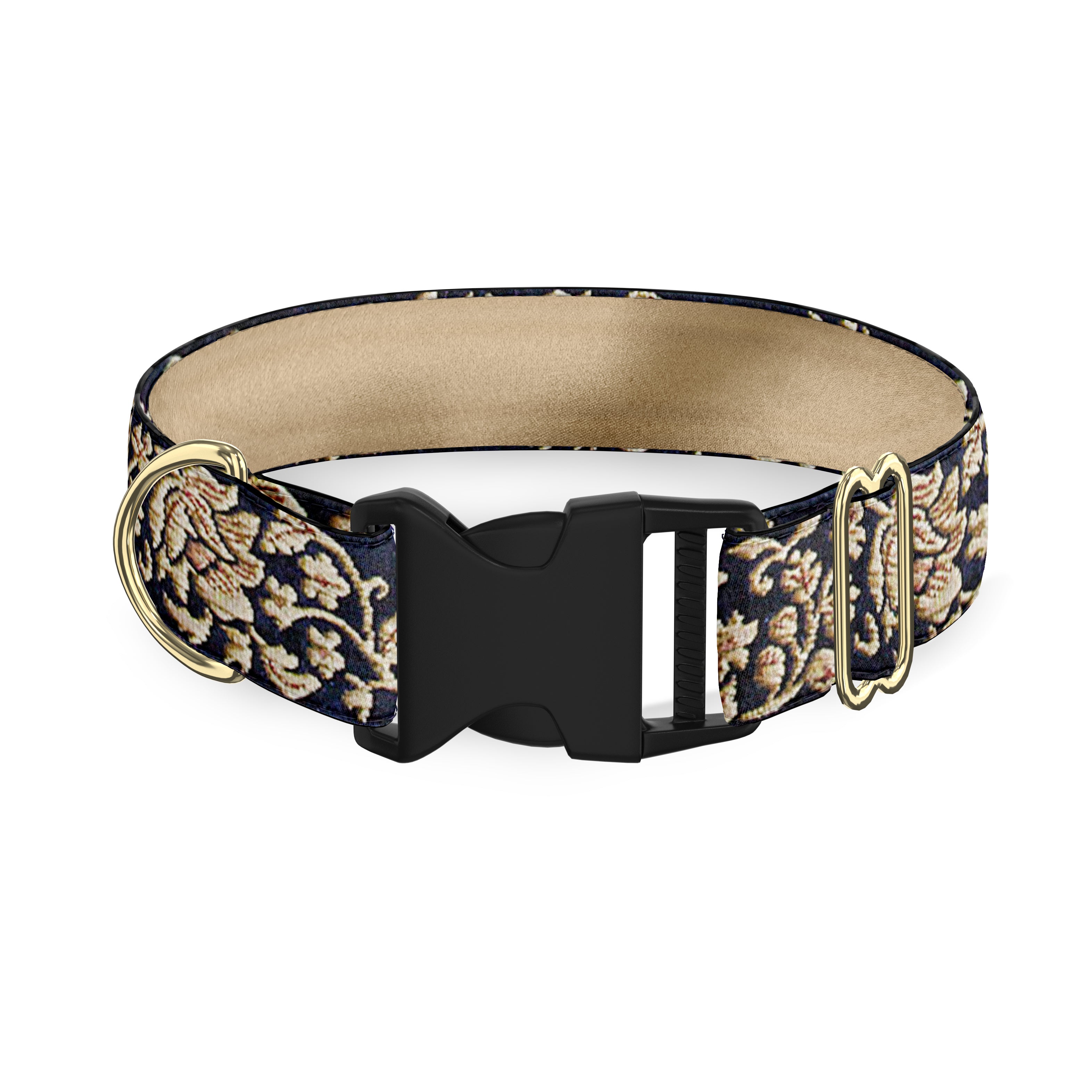 Victoria Camel 1.5" Dog Collar
Shh, It's a secret. Your dog will embrace her feminine side in the Victoria Collar, one of my favorites on a girl Bulldog, Pitbull, Basset or Mastiff. Beautiful rolling camel colored flowers on black background. Available in either, Camel, Garnet or Brown.
1.5" wide in Standard or Martingale Style Collars.
Sister pattern to The Weave and Croc if you're trying to outfit multiple dogs with a similar look this is also a very tuff durable fabric.
Standard Collars are made with a thick black squeeze clip.
Martingale Collars go over your dogs neck and tighten when pulled for a more secure hold.
How to Order Your Mrs.Bones Collar
Mrs. Bones Collar Sizing
Standard Side-Release Collars
From years of experience, Mrs. Bones believes that the most important factor in selecting a new collar for you dog is the WIDTH.
Frequently Mrs. Bones receives telephone calls that go like this: "Hi. I absolutely LOVE that 2-inch Dragon Fire trim, and I HAVE to have it for my dog… He is a Cocker Spaniel." Of course such a wide trim would make a poor Cocker look like he was stuffed into a turtleneck sweater, and he would be incredibly uncomfortable; he would then paw at the collar, scratch it, and try to get his message across in whatever possible way.
This is why it is very important to select a trim that is the proper width for the size and neck length of the dog. Small dog — narrow collar, medium size dog — medium width collar, and so on.
To determine the size (length) of the Mrs. Bones collar most appropriate for your dog, measure loosely around your dog's neck where you want the collar to rest. If the measurement is right on the edge of a size (14-3/4 inches, for example) you should get the next size up, especially if the dog is young, or specify exact measurement for a custom fit. All of Mrs. Bones' collars are adjustable.
Suggested Collar Size Chart for Standard and Mixed Breed Dogs
| | | |
| --- | --- | --- |
| Dog Size: | Collar Width | Collar Length |
| Toy: | 5/8" | 8-11" |
| Small: | 3/4" | 11-15" |
| Small Plus: | 3/4" or 1" | 14-18" |
| Medium: | 1" or 1.5" | 15-19" |
| Large: | 1" or 1.5" | 19-23" |
| Extra Large: | 1" or 1.5" | 23-29" |
Suggested Collar Size Chart for Sighthounds
Dog Size:
Dog Breed
Collar Width
Collar Length
Toy:
Italian Greyhounds, 
Chinese Crested
5/8"
8-11"
Small:
Whippets, Basenji , Saluki
3/4" or 1"
10-13"
Medium:
Greyhounds, Magyar Agar, Afghan Hound, Pharaoh Hound
1", 1.5" or 2"
13-15.5"
Large:
Greyhounds, Borzoi , Galgo
1", 1.5" or 2"
15.5-17.5"
Extra Large:
Irish Wolf hounds, 
Scottish Deer hounds
1", 1.5" or 2"
17-22"
Mrs. Bones Collar Styles
Standard Side-Release Collars
Standard side-release collars with a plastic clip come in all lengths, and widths of 5/8-inch, 3/4-inch, 1-inch, 1.5-inch.
Watch Mrs. Bones demonstrate

The Martingale Collar.
Sighthound Collars 
Also called Martingale Collars, are available in all lengths, and widths of 5/8-inch, 3/4-inch, 1-inch, 1.5-inch, and 2-inch. The safest and most commonly used collar for all Sighthounds is the "double-loop" safety collar, known in some parts of the USA as the "martingale" or "humane safety choke" collar. Quite simply, it is two loops – the larger loop adjustable to the size of the dog's neck; the smaller loop, often referred to as the handle, has a D-ring attached to it. When a leash is attached to the D-ring, the larger loop tightens around the dog's neck and prevents the dog sliding backward out of the collar. The restraint is firm and secure, but never pinches or gags the dog.
Collar Widths
5/8-inch Wide: Trims for dogs whose neck measures 5-11 inches (Toy size) such as Toy Poodles, Maltese, Yorkies, Silky Terriers, Italian Greyhounds, Chinese Cresteds, and Chihuahas.
3/4-inch Wide: Trims for dogs whose neck measures 11-15 inches (Small size) such as Boston Terriers, Dachshunds, Jack Russell Terriers, Shih-tzu, Miniature Schnauzers, and Miniature Poodles.
1-inch Wide: Trims for dogs whose neck measures 15-19 inches (Medium size) such as Dalmatians, Irish Setters, Weimaraner, Boxers, Corgis, Whippets and Labradors (who usually have short necks).
1.5-inch Wide: Trims for dogs whose neck measures 19-23 inches (Large size) such as Golden Retrievers, Rottweilers, Doberman, Bassett Hounds, and Medium, Large and Extra Large Sighthounds.
2-inch Wide: Trims appropriate only for larger Sighthounds, Mastiffs, Great Danes, Giant Schnauzers.
IF YOU ARE NOT SURE WHICH STYLE AND SIZE YOU NEED FEEL FREE TO CALL US AND PLACE A PHONE ORDER AT 877-767-1308 or 757-412-0500 BETWEEN THE HOURS OF 12:00pm-6:00pm EST.